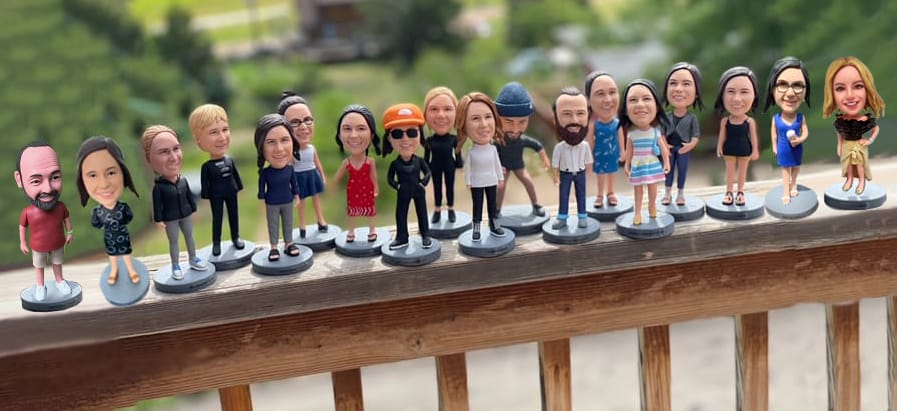 We Believe
Learning Happens Everywhere
Education Should Be Engaging & Accessible
Technology Transforms Learning
Your Challenges Are Our Challenges
Our Products Solve Problems
Our Mission
At IE, our primary goal is to provide the orientation, support, and training necessary to Inform & Engage, Inspire & Empower, and Instruct & Elevate.
Amy Baldwin, Ed.D.

Amy Baldwin, Ed.D. is a Senior Lecturer in the Department of Student Transitions at the University of Central Arkansas where she previously served as the former director of the Department of Student Transitions. She wrote the first, ground-breaking student success textbook for community colleges and the first student success textbook for first-generation students. She is also the lead author of College Success (2020), an Open Education Resource (OER) by OpenStax. Prior to her work at the University of Central Arkansas, Amy served as the Chair of College Studies and an English Professor at Pulaski Technical College. Amy earned a bachelor's degree in English literature from Rhodes College, a Master of Arts in British Literature from Washington University and her Ed.D. from the University of Arkansas at Little Rock, in higher education where she studied identity development and student success at the community college for African American males.

---

Dr. Dan Maxwell

Dr. Daniel M. Maxwell is the Interim Vice Chancellor for Student Affairs, UH System Interim Vice President for Student Affairs, University of Houston. Dr. Maxwell has more than 30 years of experience in higher education at both public and private institutions including land grant and urban institutions. Dr. Maxwell is an active member of NASPA – Student Affairs Administrators in Higher Education and currently serves as the chairperson of the 2023 Conference Leadership Committee and NASPA Board of Directors. He is the past two-term national president of the Association of College Unions International. Dr. Maxwell is also a member of TACUSPA – Texas Association of College and serves as the Chairperson of their Foundation Board. NASPA and the NASPA Foundation named Dr. Maxwell as a 2020 Pillar of the Profession, and in March 2020 Indiana University's Higher Education Doctoral Program named Dr. Maxwell The Robert H. Shaffer Distinguished Alumni Award recipient. Dr. Maxwell previously worked at Syracuse University, the University of Arizona, Western Illinois University and Indiana University Purdue University Indianapolis (IUPUI). Dr. Maxwell is a graduate of Syracuse University with a bachelor's degree in personnel and industrial relations and the University of Miami with a master's degree in higher educational leadership. Dr. Maxwell received his doctorate in higher education and student affairs from Indiana University, and his research interests include campus ecology, creating purposeful space, and post-occupancy evaluations.

---

Saundra McGuire

Dr. Saundra Yancy McGuire is Professor Emerita of Chemistry and Director Emerita of the Center for Academic Success at Louisiana State University. Prior to joining LSU, she spent eleven years at Cornell University, where she received the coveted Clark Distinguished Teaching Award. Her most recent books are Teach Students How to Learn, Teach Yourself How to Learn, and The Parents' Guide to Studying and Learning. McGuire's accolades include being listed in 2023 as one of the Top 100 Learning Influencers by Eduflow, being named a 2022 Louisiana Legend by Louisiana Public Broadcasting, and induction in 2017 into the LSU College of Science Hall of Distinction. She is a Fellow of the American Chemical Society, the American Association for the Advancement of Science, and the Council of Learning Assistance and Developmental Education Associations. The Presidential Award for Excellence in Science, Mathematics, and Engineering Mentoring was presented to her in a White House Oval Office Ceremony. McGuire received her B.S. degree from Southern University in Baton Rouge, LA, her master's degree from Cornell University, and her Ph.D. from the University of Tennessee at Knoxville. She is married to Professor Stephen C. McGuire, and they are the parents of Dr. Carla McGuire Davis and Dr. Stephanie McGuire, and the doting grandparents of Joshua, Ruth, Daniel, and Joseph Davis.

---

Dr. Maria Poindexter

Maria Poindexter is a dedicated Human Resources professional who received her doctorate in Instructional Systems from the Pennsylvania State University with an emphasis in Workforce Education and Organizational Development. Her professional interests center on assessing, designing, developing, implementing and evaluating educational/training programs. Maria currently works at Reynolds Community College where she serves as the Coordinator, Professional Development. She is an adjunct faculty member at the University of Richmond, teaching courses in the Human Resource Management program. Needless to say, Maria loves to teach! She received a B.S. degree in Marketing and International Business from Temple University and a M.Ed. in Instructional Systems from Penn State. Prior to her graduate school career, she was a trainer and instructional designer for a large telecommunications company in Philadelphia, PA where she grew up.

---

Dr. Joe Schaffer

Dr. Joe Schaffer considers himself a community college evangelist. Far from a success in his early college pursuits, an associate's degree changed his life for the better. In repayment, his professional commitment has been to strengthen the mission of the community college locally and nationally. Dr. Schaffer is currently the President of Laramie County Community College, Wyoming's largest community college. Prior to joining LCCC, Dr. Schaffer spent nearly a decade at Montana State University-Great Falls College of Technology (now Great Falls College), serving in a variety of academic and administrative roles. He received his Associates of Arts degree from Bemidji State University, a Bachelor of Science from The University of Montana, his Masters of Science in Technical Communication from Montana Tech, and a Doctorate in Educational Leadership from the University of Montana's College of Education and Human Sciences.

---

Naomi Sigg

Naomi Sigg is the Vice President for Diversity, Equity, Inclusion and Belonging at John Carroll University. In her role she oversees the Center for Student Diversity and Inclusion (CSDI), Student Accessibility Services, the Office of Diversity, Equity, Inclusion, and Belonging, Title IX initiatives, and faculty and staff DEIB training, development, and programming. Naomi has more than 15 years of progressive experience in higher education, with a specialization in DEIB, leadership, and student development. Most recently, she served as senior associate dean of students and director of Multicultural Affairs at Case Western Reserve University. Naomi has been invited to share her expertise in the DEIB field through presentations at various conferences including the National Conference on Race and Ethnicity, the International Conference on Conflict Resolution and Education, and the American College Personnel Association. Naomi received both her undergraduate and graduate degree from Miami University in Oxford Ohio. She is a proud, first generation, immigrant mom and lives in northeast Ohio with her partner and three children.

---

Seth Ward

Seth Ward, CTE Program Director of Skilled Trades & Technical Sciences; Colorado Community College System. With many years of experience in several areas of Skilled Trades & Technical Sciences, Seth is a passionate champion of all aspects of Career Technical Education. An enthusiasm for learning and helping others to learn is apparent in any setting. As an educational leader, Seth works to support equitable access to high-quality CTE content; removing barriers & increasing capacity, developing and ensuring sustainability of programs, and striving to inspire learners and educators alike.
California Advisory Board
---
Dr. Ding-Jo Currie

Dr. Ding-Jo H. Currie's career includes over forty years in the California higher education systems. Ding-Jo retired in 2011 from Coast Colleges where she served as Chancellor overseeing three outstanding colleges in Orange County, California.Prior to her Chancellor role, Ding-Jo served as the President of Coastline Community College. Currently Ding-Jo is the Distinguished Faculty of the Ed.D. in Community College Leadership program and the founder and director of Leadership Institute for Tomorrow (LIFT) at CSU Fullerton. She is also the President of Lingnan Foundation which leads international higher education programs between China and the United States. Ding-Jo served as executive coach for presidents and chancellors at the Wheelhouse Presidents Academy of UC Davis and is a founding advisor and faculty of the Executive Leadership Academy (ELA) for the Center for Studies in Higher Education at University of California Berkeley. Dr. Currie earned her Ph.D. from University of Southern California in International and Intercultural Education and a M.S. of Personnel Counseling from Wright State University. She has a Baccalaureate of Science Degree with double majors in Mathematics and Psychology from Manchester University.

---

---

Dr. Sylvia Dorsey-Robinson

Sylvia Dorsey-Robinson has served in the K-12 and Community College system for over 30 years. During that time, she a been a special education teacher, a vice principal, principal, coordinator of special education, director of special education, associate dean of categorical programs and a vice president of student services. She has also served as President of the Chief Student Services Officers Association (CSSO Association), formerly known as the California Community College Chief Student Services Administrators Association (CCCCSSAA). Since retiring in 2017, she continues the work of equity and access through her support of the CSSO Association as the Executive Director, presenter, consultant, and Advisor Board Member. She absolutely loves retirement, cruising and spending time with her family. Throughout this time, she has held true to a single tenet- everything she does and every expectation she has for herself, for her staff and every program, practice, or initiative must be good enough for her child.

---

---

Celia Esposito-Noy, Ed.D.

Celia is in her seventh year as Superintendent-President of the Solano Community College District. During her tenure, the District has added over 130,000 square feet of new or remodeled building space at the main campus in Fairfield and the two centers in Vacaville and Vallejo. Additionally, the District has improved its financial standing, refinanced the Bond to save tax payers $20 million over the life of the Bond, and added a Bachelor of Science degree in Biomanufacturing, one of two programs in the state. Celia has worked in higher education for more than 30 years and has served in a number of state associations including the CEO Board, 3C2A (Athletics) Board, ACE, and the SCFF Advisory Committee. She currently serves as the Board Chair for the Solano County Economic Development Corporation. Celia earned her BA degree from San Francisco State University, her MA degree from Stanford University, and her Ed.D. from Mills College. She has lived in Solano County since 1998 and resides in Fairfield.

---

---

Dr. Jory Hadsell

Dr. Jory Hadsell is the Vice Chancellor of Technology for the Foothill – De Anza Community College District, providing leadership for administrative and educational technology services, institutional research and planning, and serving students and staff in a large, multi-college district located in Silicon Valley. Hadsell also serves as executive sponsor of the California Virtual Campus-Online Education Initiative, a state-wide grant-funded initiative for the California Community Colleges. He previously served as Executive Director of the CVC-OEI and has held various academic roles at the community college and university level, including service as adjunct faculty, tenured professor, and administrator. He is passionate about technology and support for student learning, especially the intersection of online education, personalization, and cross-institutional collaboration.

---

---

Kate Mueller, Ed.D.

Kate Mueller, Ed.D. is the Vice President of Student Services at Coastline College (CA). She has worked in higher education since 1985 at a wide range of institutions including community colleges, four-year, public, private, small, large, and international, and a wide range of roles as well. She is honored to have been in partnership with Innovative Educators for over a decade. As a leader in higher education, her overall focus is on transforming students' lives and promoting transformational change for students, colleagues and institutions.

---

---

Pam Walker

Dr. Pamela Walker is currently a Vice President for PPL, a California based company providing executive recruitment focused exclusively on executive searches for the California community colleges. PPL has maintained partnerships with professional associations, major universities preparing community college leaders, and associations representing the diverse community of applicants pursuing professional growth who also have the capacity and willingness to address the emerging challenges in higher education institutions. Prior to PPL, Walker served as the executive vice chancellor of educational programs and services at the California Community College Chancellor's Office and oversaw divisions responsible for providing state-level technical assistance for all community college instructional and student services activities. Walker led efforts developing the bachelor's degree, integration of programs in both student services and instruction, led the task force on accreditation and was responsible for streamlining the curriculum approval process. Prior to the Chancellor's Office, Walker served American River College where she worked for 12 years including a stint as interim president of the college. Walker is a tireless advocate for the benefits of education, working throughout her career to develop programs of distinction to better serve students. Dr. Walker received her bachelor's degree from Eastern Oregon State University in La Grande, master's degree from California State University, Sacramento, and her doctoral degree in organization and leadership from the University of San Francisco.

---
Teddy

Chief Puppy Officer

Huckleberry

Chief Sniff Inspector

Lulu

General Puppy Counsel

Mimi & Dexi

Feline Overlords

Sierra

Yardscaping Supervisor

Winnie

Kitchen Supervisor

Mowgli

Barketing Director

Wilma & Pebbles

Pawject Managers

Doc & Otis

Blanket Meowficers

Winnie

Relaxation Specialist
Contact Us!
Innovative Educators
3277 Carbon Place
Boulder, CO 80301
Phone: 303.955.0415 | Fax: 1.866.508.0860 | support@ieinfo.org